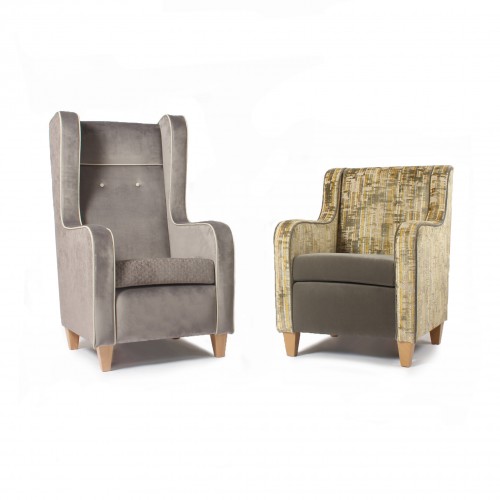 Our Luxurious Solway Lounge Chairs Are Perfect For Hotels & Care Homes
The Solway High Back and Mid Back lounge chairs will make eyes turn..... but still offer a really comfortable place to sit! Manufactured for the contract market, these chairs have a hardwood frame with carded arms for extra strength and the seat is both webbed and canvassed.
The High Back is designed with an integral wing and both models have lumbar support, curved arm rests, concealed staples and wooden feet to give a luxurious offering. The piping and a couple of buttons on the High Back come as standard.
Dimensions (mm) & Fabric (m)
High back – H 1180 x W 680 x D 920 | Seating Height: 490 - see more details here
Mid back – H 890 x W 680 x D 760 | Seating Height: 490 - see more details here