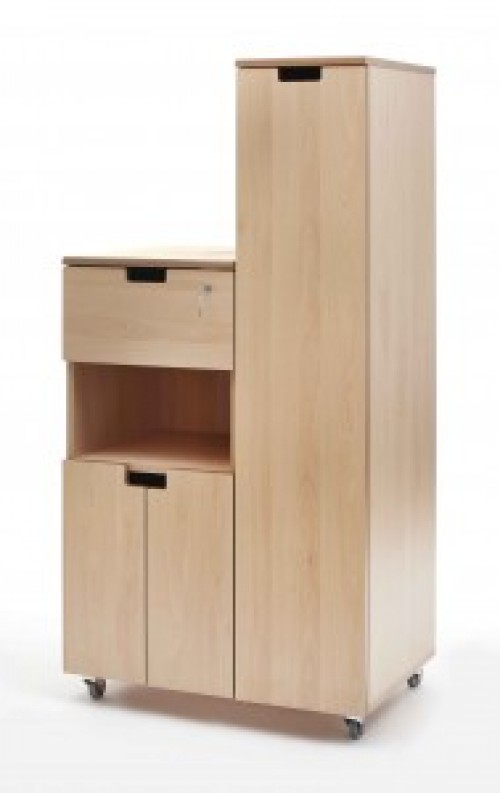 Hospital Furniture - New Hospital Bedside Cabinet With Hospital Wardrobe Option
Hospital Furniture - New Hospital Bedside Cabinet With An Option To Add A Hospital Wardrobe & Several Other Features
Our new hospital bedside cabinet is manufactured in 18mm MFC with MDF tops, and MDF drawer and door fronts.
The top has polished rounded edges for longevity (no edge bending to peel off) and to avoid patient injury (no sharp edges). The hospital cabinet also comes with cut away handles as standard again to avoid impact injury which is an important feature in hospital furniture where patients are often frail.
This bedside cabinet is available with or without the hospital wardrobe, LH or RH configuration.
Dimensions
NHSLOC06- 990h x 435w x 500d (no wardrobe)
NHSLOC08- 1420h x 730w x 480d (with wardrobe)
The cabinets come with the following features -
Rounded polished corners on MDF tops, drawer and door fronts.
Drawer constructed with metabox side run on contract grade metal runners.
Strong flap mechanism with sunk hinges.
Side door supplied with 2 hinges.
Accessories such as: towel rail, and a bowl holder.
Lockers come with 2 keys as standard. The following options are available for master key sets- up to 20 locker, 20-50 lockers and 50+ lockers.
Click to access all the Hospital Bedside Cabinets.