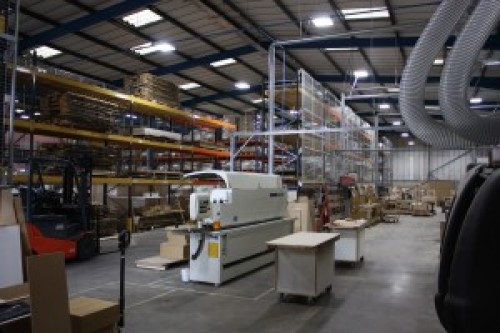 Bespoke Furniture For Contract Settings Now Even Better - Craftwork Expands To New Factory
Bespoke Furniture For Contract Market Made In Our New Factory - 88 Armley Road, Leeds
After manufacturing bespoke furniture for contract environments for over 30 years, Craftwork have now moved to a new site at 88 Armley Road, Leeds - about 2 miles away from our previous factory in Wortley. The whole team has worked hard to pull the business together under a single new, very high, roof!
It's great to have the space to organise everything properly with each department connected to the next so the furniture flows around the factory - we have created a fluid, efficient manufacturing process from raw material through to finished product. Wood shop, Frame shop, Polishing, Upholstery and Cabinet Assembly sit neatly together, maximising our efficiency. This means we can offer all our customers, from care & nursing homes to hotels to student accommodation, even better value for money - how we make our chairs, sofas, tables and cabinet furniture is all now streamlined!
We'd love to give you a tour, to see our manufacturing capability and visit our revamped showroom - do give us a call on 0113 290 7939.